Short Men's Jeans in Premium Denim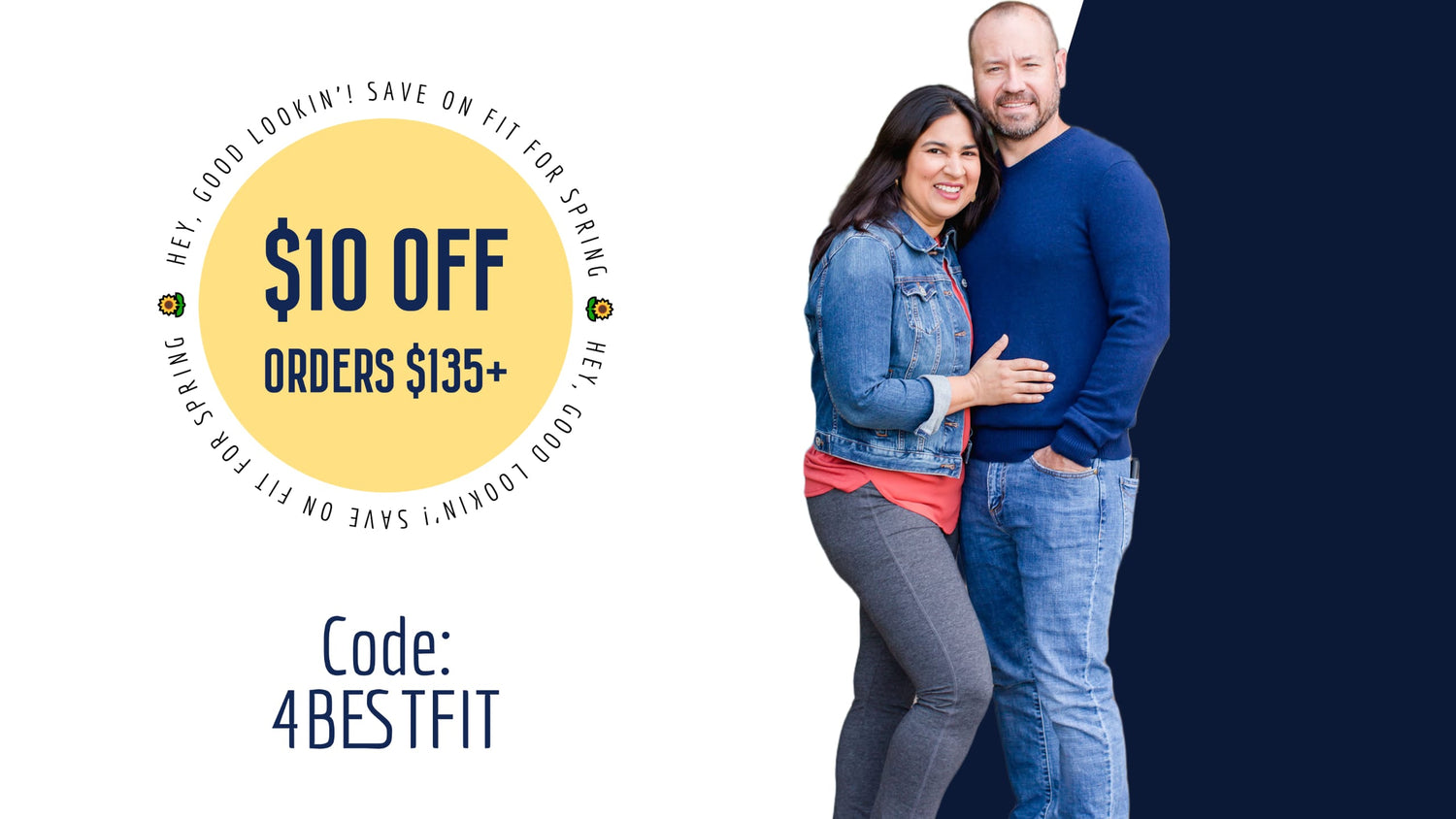 What Size Should I Order?

FOR GENERAL SIZING INFORMATION: Our Size Charts and Short Men's Style Guides are a great place to start. If you need a tape measure to take your measurements, you can find one here

FOR LENGTH:

As we like to say around here, EveryBODY is different =) So height alone doesn't always translate to a specific inseam (since some guys are all torso, others all legs). Your safest bet is to measure a pair of pants that fit well. Simply fold them in half lengthwise and measure from crotch seam to hem with a soft tape measure.

FOR WAIST SIZE:

For numbered waist sizes, if you are unsure of waist size, we recommend measuring at the natural waist with a soft tape measure. Whatever the actual number, that is the size you would order from us. You can also measure the actual waistband of your best fitting pants (TIP: do not simply go by the tag size on existing, store-bought pants).

How to Buy Short Men's Clothing

Size Charts & Style Guide

The hard part is done: First, we designed and crafted the best short men's clothes in America. Next, we offered an insanely wide range of sizes and inseams to FIT you.  All that's left is for you to identify your size from the size charts below-  26 or 27 inseam? 28 inseam? Waist XS or 2XL? We stock them all.  So next is to simply order online from our vast assortment of short men's clothing for fast and easy delivery of perfect FIT styles for you. Our short men's clothing size chart options are provided below.

HAVE MORE QUESTIONS? Check out our guide to What Styles Fit Short Men Best below

If you're under 5'9" - finding the right styles and fits for you can be tricky- we know this first-hand. Read on to find answers to all your short men's style questions. First, learn how to measure yourself for short rise pants and our exclusive dress shirts in short men's proportions, using our measuring guide below. Next, if you're not sure what styles suit your shorter frame best, send us your questions! Details about our Free FindMyFIT service are below. Lastly, if you're ready to order, FORtheFIT's short men's clothes are always in-stock and available in a range of styles, lengths and inseams to FIT you best. Because whether you are short and slim or short and stout, or somewhere in between,  we will help you find your perfect FIT.

Knowing your ACTUAL size is the key to great FIT. Great FIT, is the key to looking good. Look good, and you'll FEEL Great. A simple formula that starts with consulting our Short Men's Clothing Size Charts below.

 

Short Men's Clothing Size Chart:

(*International size conversions provided, too)

Think you're hard to FIT? Nah. Since 2005, FORtheFIT has been stocking the most popular (and a few not so common) short men's clothes sizes. Whatever your needs: 34x26 pants, 36x28 jeans, or even "in between" sizes like 33 or 35, and 27" lengths, we offer sizes to FIT you. The first step is to find your size in our short men's size charts below. Once you identify a general apparel size, start shopping! Then, be sure to read product description carefully. The charts below offer general sizing, but item-specific charts are included on every product page.

How to Buy Short Men's Shirts:  Size Chart, SHIRTS

For assistance on how to measure yourself for shirts proportioned for shorter men, up to 5'9", just scroll down to our guide below. Not located in the U.S.? No problem- International conversions are included in every chart and we also ship globally.

| | | | | |
| --- | --- | --- | --- | --- |
| | Neck Size (for US, UK, Canada, Australia) | U.S. Chest Size (inches) | Neck Size (Europe, cm) | Chest Size (Europe, cm) |
| X-small | 14/14.5 | 34 | 36/37 | 86 |
| Small | 15/15.5 | 36 | 38/39 | 91 |
| Medium | 16/16.5 | 38 | 40/41 | 97 |
| Large | 17/17.5 | 40 | 41/42 | 102 |
| X-Large | 18/18.5 | 42 | 43/44 | 107 |
| 2X-Large | 19 / 19.5 | 44 | 45/46 | 112 |

| | | | |
| --- | --- | --- | --- |
| Sleeve Lengths | Regular | Short | X-short |
| inches | 32/33 | 30/31 | 28/29 |
| cm | 83 | 77 | 72 |

How to Buy Short Men's Athletic Pants: Size Chart - ATHLETIC PANTS / SWEATS / JOGGERS

The chart below features American and international short men's apparel sizes. First, consult the chart below. Next, if you need help taking the measurements, read on for our measurement tutorial below.

| | | | | | | |
| --- | --- | --- | --- | --- | --- | --- |
| Short Pants (Label Size) | X-Small | Small | Medium | Large | X-large | 2X-large |
| Your Waist Measurement (inches) | < 28 waist | 28 - 30 waist | 32 - 34 waist | 36 - 38 waist | 40 - 42 waist | 44 - 46 waist |
| Your Waist Measurement (cm) | < 70 | 71-79 | 81-89 | 91-99 | 101-109 | 111-119 |

How to Buy Short Men's Jeans and Pants: Size Chart - JEANS / CHINOS

For assistance on how to measure your waist and inseam for short men's jeans, dress pants, chinos and more, simply review our instructions below. Are you based outside the U.S.? No problem. International conversions are included in every chart and we offer fast, low cost shipping throughout the world.

| | | | | | | | | | | | | | | | |
| --- | --- | --- | --- | --- | --- | --- | --- | --- | --- | --- | --- | --- | --- | --- | --- |
| Short Length Pants (LABEL Size) | 28 waist | 29 waist | 30 waist | 31 waist | 32 waist | 33 waist | 34 waist | 35 waist | 36 waist | 38 waist | 40 waist | 42 waist | 44 waist | 46 waist | 48 waist |
| Your Waist Measurement (inches) | 28 | 29 | 30 | 31 | 32 | 33 | 34 | 35 | 36 | 37-38 | 39-40 | 41-42 | 43-44 | 45-46 | 47-48 |
| Your Waist Measurement (cm) | 71 | 74 | 76 | 79 | 81 | 84 | 86.5 | 89 | 91.5 | 95 | 100 | 105 | 110 | 115 | 120 |

How to Buy Pants for Short Men:  Size Chart - PANT LENGTHS / SHORT INSEAMS

For assistance on how to measure your waist and inseam for tall pants, simply scroll down to our guide below. Not located in the U.S.? No problem- International conversions are included in every chart and we ship globally.

| | | | |
| --- | --- | --- | --- |
| Short Length Pants (Label Size) | 2XSH | XSH | SH |
| Pants , Jeans & Athletic Pants: Inseam Measurement (inches) | 25 inseam |  26/27 inseam | 28/29 inseam |
| Pants, Jeans & Athletic Pants: Inseam (cm) |  64 cm |  67 cm |  72 cm |
| Your Height (inches) | <5'6" | 5'6" to 5'7" | 5'8" to 5'9" |
| Your Height (cm) | <167 cm | 167 to 171 cm |  172 to 175 cm |

Top Style Tips for Shorter Men - How to measure & What to wear

Step 1: How To Measure yourself for Short Men's Clothes

Finding your perfect FIT is easy- just find an inexpensive, soft tape measure and get to work! Don't own one? Click the above link- we offer them right online at FORtheFIT.

Neck Measurement:

Finding your collar size is easy! First, with a soft tape measure, either 1) measure around the base of your neck, or 2) measure the collar on your favorite shirt. If you are measuring from a shirt, you will start from the center of the collar button and run the tape to the far end of the button hole. The resulting measurement is your collar size.

ProTip:

If you intend to wear the shirt with a tie, the size you select should closely match your exact collar measurement. However, shirts you intend to wear without a tie may be purchased slightly larger at the neck. The larger neck offers comfort and a more casual look.

Chest Measurement:

To measure your chest, first relax your arms at your sides. Then, measure around the fullest part of your chest, keeping the tape measure under the armpits. This is your chest size.

ProTip:

If you're shopping for a jacket or sports coat, in addition to considering your chest, you will want to ensure comfort and a better fit in the upper arms and shoulders. Therefore, in addition to the chest measurement above, you will also want to know your overarm measurement. First, measure around your chest and arms (at the highest point of your shoulder blades). This is your overarm measurement. Next, subtract your chest measurement from your overarm measurement. If the difference is 7 or more inches, then we recommend ordering one size larger through the chest, so you can comfortably move your arms and shoulders in the jacket.

Sleeve Measurements (Arms):

To find what sleeve length to order, start by bending your elbow 90 degrees and placing your hand on your hip. Next, hold the tape at the center back of your neck. Last, measure across your shoulder to your elbow, and down to your wrist. Voila! You've just calculated your sleeve length.

Waist Size Measurements:

Figuring out what waist size to order for pants is simple. First, grab that soft tape measure. Second, measure loosely around your natural waistline. Third, don't forget to breathe. Remember: if you hold the tape measure too tightly, you may pop a button the next time you take a deep breath or eat a sandwich! If you're in-between sizes, consider a self-sizer waisted pant (learn more about those here)

ProTip:

Here's how NOT to measure. First, do NOT simply go by the stated or label size on your favorite pants. Second, do not simply measure the waistband on the garment itself. That's because depending on the intended rise of that item (ie. whether it's supposed to sit AT or BELOW your waist), and also how it actually fits on you (ie whether you are wearing it as intended), the resulting numbers may have no relevance to your actual waist size. Instead, simply measure your waist itself.

Rise and Inseam: Measuring for Pants

Pant Length / Inseam:

Inseam is the measurement of your pants length from the crotch seam to the bottom hem. A professional tailor can take this measure for you. But, if you're more comfortable, you can easily find this measurement at home. First, identify which of your existing pants fits you best. Next, fold that pair in half-lengthwise and lay on a flat surface (a bed, table or the floor will work). Then, measure from the crotch seam (where all the fabric meets) and straight down the pant leg all the way to the bottom. This is your inseam. Wish your favorite pair were just an inch longer? Cool beans! Just add an inch to the number.

Trouser Rise:

The rise on your pants refers to the distance from crotch to waist. Simply fold your pants in half lengthwise, and along the front of the pant, measure from the crotch seam to the top of the waistband to find the front rise. Rise is important because it determines where the pants sit on your body. First, rise is most commonly used to describe whether the pants are supposed to sit on your body. For example, low rise pants sit well below your waist, and high-rise just above. But YOU also have a natural rise - the distance between your crotch and waist, that also needs to be considered. If you are shorter than average, you may have a short rise.

ProTip:

If you are under 5'9" or shorter than average, you may find yourself buying regular, off the rack pants and wondering why they sit so high on your body (or, you're wearing them below the waist, and find the crotch is dragging super low). If so, you may have a short rise. If you find you have a short rise, you may need to start with pants that feature a true short rise, and THEN shop for your perfect style (ie whether you want a short/low rise to sit below your waist, or short/standard rise to sit AT your natural waist). For example, we offer both styles, including: classic fit (short rise, to sit at the waist) and slim fit (short rise, to fit below the waist).  See our featured Pant Rise Article for more details.

For more help finding your perfect style or size, contact FindMyFIT © :

What can we help you to find? Whether you have questions about what to wear on a special occasion, or what styles will FIT you best, simply send us an email! Next, a FIT Consultant will reply within one business day with advice and helpful suggestions. Lastly, they can suggest specific FORtheFIT items that will work for you. Just send an e-mail to FindMyFIT@FORtheFIT.com. Ready to Shop? Short Men's Clothing is available now at FORtheFIT.com

Find My Fit © Terms & Conditions :

"Find My Fit" is a free service offered by For the Fit, Inc. First, we will make every effort to respond to your questions as soon as possible. Unfortunately, we cannot promise an instant response. Therefore, please allow at least 1 business day to respond to your questions. Secondly, FORtheFIT reminds you that this service provides individual advice and tips. Thus, it remains the individual customer's decision whether or not to follow the advice provided. Therefore, by using our service, you agree to release FORtheFIT from any and all liability for any damages resulting from following any advice provided by FORtheFIT or its agents or representatives. For the Fit, Inc.'s standard terms and conditions apply to use of this service.

Shirt Sizing Chart

| | | | | | |
| --- | --- | --- | --- | --- | --- |
| | Neck | Chest | Regular | Short | X-short |
| X-small | 14 | 34 | 31.5 / 32 | 30 / 30.5 | 28.5 / 29 |
| Small | 14 / 14.5 | 36 | 32.5 / 33 | 31 / 31.5 | 29.5 / 30 |
| Medium | 15 / 15.5 | 38 | 33.5 / 34 | 32 / 32.5 | 30.5 / 31 |
| Large | 16 / 16.5 | 40 | 34.5 / 35 | 33 / 33.5 | 31.5 / 32 |
How long should I wear my Jeans?

You get your jeans in a certain length - then order chinos in that same length and they're too long; you're stepping on your pajama bottoms - did you shrink? Nope. We just wear different pants at different lengths, so while your "inseam" doesn't change the best length to order in different pant items might. Not to worry - we're happy to hep you identify the right length to order for each style of pants - check out our Blog Post about Hem Lengths by Pant Style
How does "Rise" affect Fit?
Find my FIT - Skinny, Slim or Relaxed?

FORtheFIT Tall Men's Pants are NOW AVAILABLE IN 3, DISTINCTIVE NEW FITS -

Which is right for you? 

Classic = a classic 5-pocket style; relaxed through the hip and seat, featuring a straight Leg. 

Slim = our middle child: not too relaxed, not too skinny - just a clean, tailored look, with a slight taper hip to hem. 

Skinny = our most modern FIT - slimmest from hip to hem and tapered at the ankle, a Skinny FIT
First in FIT: Short Men's Jeans since 2010

In 2010, FORtheFIT changed the industry forever, with a premium denim jean designed EXCLUSIVELY for Shorter Men, up to 5'9" - offering a true short rise, shorter lengths (25", 26", 27", 28", 29" and 30" are all offered).  Slim? Stout? Somewhere in the middle? The industries largest available range of waist sizes, from men's waist 28"-48", means we FIT you. Our team of designers and tailors blended their knowledge and unique insights with customer feedback, to tailor the perfect jean for YOU. No detail was omitted- even seemingly small details like belt loops and pocket sizes were subject to intense scrutiny and thoughtful customization to ensure that each pair of jeans fits short men perfectly.